INFORMATION CAMIGUIN ISLAND
Location & Nearby Attractions
Getting To The Island
Currently, the fastest and most convenient way to get to the island is by airplane.
The Camiguin CGM airport is only 12-15 minutes by car from the Artvilla.
Daily Cebu Pacific flies from/to Cebu City, Mactan International Airport. The flight duration is usually 35-45 minutes.
Sunlight Air is another charter airline who provides direct flights from/to Manila. It takes about 2 hours 30 minutes.
Alternatively, you can arrive via the island of BOHOL. A car ferry (Super Shuttle Ferry) connects the town of JAGNA with the port of BALBAGON on Camiguin. Currently there is a ferry between these points on Mondays, Wednesdays and Fridays. The travel time is usually about 3.5-4 hours.
The third option is the car ferry connection between the main island of Mindanao and Camiguin. Ferries run several times a day between the town of BALINGUAN and the ports of BENONI and BALBAGON (Camiguin). The travel time is usually 60-90 minutes.
In Bohol/Panglao as well as on Mindanao/Cagayan de Oro are two more alternative airports, which you can include in your travel planning.
Flight & ferry times, as well as ticket prices change frequently. Please check the internet or send us an e-mail.
Camiguin Travel Requirements & Guidelines
The entry conditions can change at short notice. We ask you to inform yourself in time (at least 7 days before your arrival) what the current requirements are.
A good help is the website https://cleancamiguinqr.com/
And the Facebook page: https://web.facebook.com/cleancamiguinqr
Currently, tourists who want to visit the island need a complete COVID-19 vaccination (in the best case with one booster shot).
You should have your international yellow vaccination certificate ready or a national QR code as Filipino/Resident.
If you have any questions, please feel free to contact us.
Local Transportation
The island has no yet developed public transport network with buses and cabs.
Traditionally, small so-called tricycles (in other countries they are more commonly known as tuk tuk) operate during the day on the main routes (all of which serve the main town of Mambajao, the ferry ports, the airport, etc.).
The local habal-habal (or motorcycle cab) is also common. Renting a motorbike to visit the island and their sights is very popular. Please note that you must bring your driver's license. Helmets are mandatory.
Multicaps also provide transfers from/to the ports, the airport or can be hired for all kinds of island tours. Feel free to ask us whom we can recommend. We can also arrange the various transfers for a fee.
We highly recommend to rent a motorbike during your stay!
Camiguin Island Map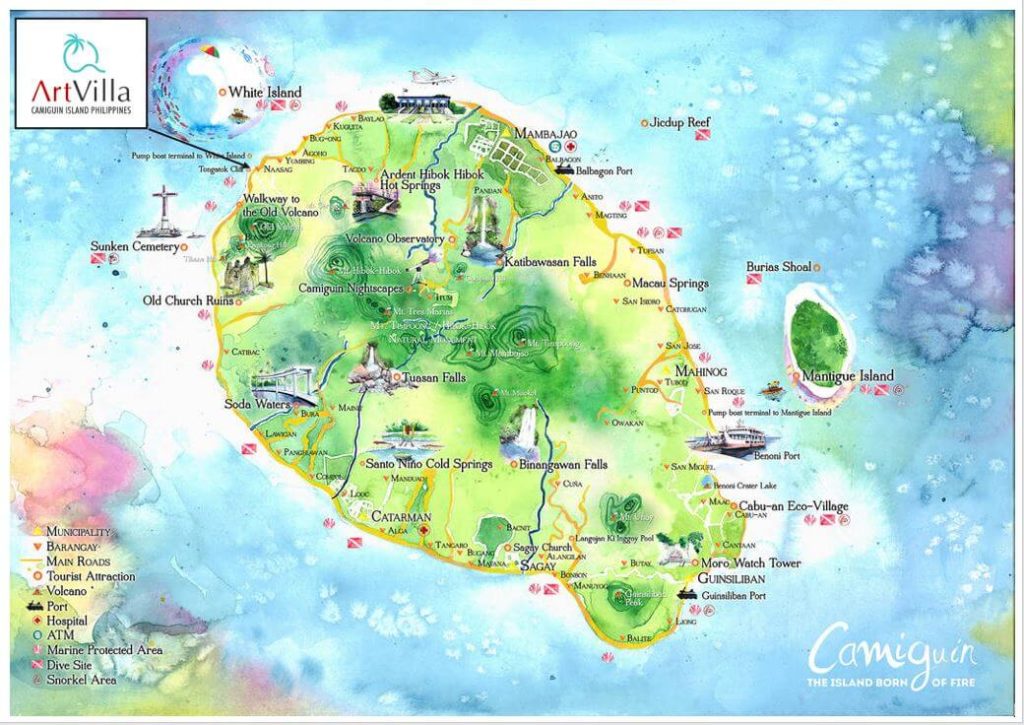 Restaurants & Bars
Camiguin Island is not known for its nightlife, but instead the focus is on enjoying the natural beauty, relaxing and actively exploring this beautiful landscape and its friendly inhabitants. At the same time, the physical well-being must not be neglected. Various restaurants, small cafes and also some bars offer different & tasty local and international cuisine. Whether you want to enjoy a freshly caught fish, a delicious wood-fired pizza or vegetarian food, you will find something for every taste on this small island. Feel free to ask us for our personal favorites.
Sight Seeing
Camiguin Island is a fantastic island for all out-door lovers. If you feel like climbing a volcano -for example the Hibok Hibok with~1300m- be sure to bring your comfortable walking shoes for hikes of all kinds.
For the less adventurous, book an island tour for a more leisurely exploration of the island's top sights. Among other things, there are wonderfully refreshing waterfalls, hot or cold springs that invite you to take a bath. A drive along the interesting coastal road is one of the highlights of a Camiguin holiday.
Water activities are not to be missed. Whether snorkeling, scuba diving or freediving, all will show you the breathtaking underwater world with tropical fish, turtles and numerous corals.
Two surrounding islands around Camiguin we would like to recommend especially: The visit of White Island and Mantigue Island. Both islands have amazing white sandy beaches and Caribbean-like turquoise sea. They can be reached with the local banka-pump-boats in about ~20min. (White Island) and 40min. (Mantigue Island) Journey. Don't miss a trip there if you plan your vacation on Camiguin.
We are happy to help you with the detailed information.
Sport Activities
Other sporting activities you can do on the island. Take your mountain bike or go for long walks by the sea.
There are also some local, basic tennis courts and a great public 50m swimming-pool in Mambajao.
Are you a fan of gyms? Try a workout at a typical local gym with simple equipment.
After all the sports activities, a relaxing full body massage on your private ArtVilla terrace is a great benefit.
If you want to know more about it, let us know.
Day Trips
If you want to spend a varied day trip, ask us for individual recommendations. We know the island very well and have decades of experience in arranging and executing all kinds of tours.
Camiguin has some more highlights in the program, we mention here the most important ones:
– Scenic-drive from Mambajao through the inland with visit of the Volcano Observatory, the Tuasan Waterfalls and other beautiful places.
– Giant-Clams Beach (the only white sand beach on Camiguin Island with the possibility to snorkel in the shell garden. A local guide will accompany you).
– Sunset at Sunken Cemetery
– Walkway to Old Volcano
– Benoni Zipline
– Springs: Ardent Hot (actually warm) springs, Santo Nino Cold Springs, Soda Water Springs
Bookings, Inquiries & Questions
Contact your Host